Facebook Go Launcher Ex Theme for Android
Facebook Go Launcher Ex Theme for Android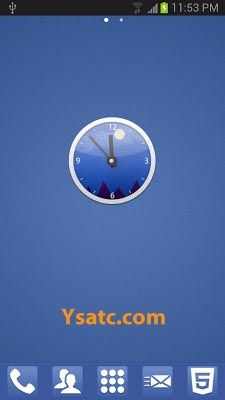 Facebook GO Launcher EX Theme is designed for Facebook lovers, who enjoy Facebook style and their amazing color patterns. The theme is full featured free version for your android mobile phones.
=[ THE THEME STYLE ]=
An elegant combination of new Facebook site color styling and design principle colors and UI options.
=[Main features]=
- Handmade created with photoshop fantastic fb style icons, covers the main apps of the phone such as dial, SMS, email, browser, contact/address book, Instagram, facebook,twitter,youtube,gmail, gallery and so on
-Minimal but very powerful stylist wallpaper of the topic- Default go launcher but new fb sense style folder interface experience
-new menu icons for phone interface
=[More Options]=
1. In GO Launcher EX press the phone menu button;
2. select "Preferences option"
3. select "Theme option"
4. select " Set Wallpaper "
5. select "GO Wallpaper "
6.ENJOY!
=[Important tips]=
1. This is not a standalone effective theme to make your phone in Facebook style. Please make sure the GO Launcher EX or Go Launcher has been installed in your android mobile/device! (Search "Facebook GO Launcher EX Theme" or "Facebook Go Launcher" to download)
2. Apply the Theme: Do Not open app directly after it has been installed, The right way is to go to MENU->Themes->Choose "Facebook Theme"theme.
- New version support ice cream sandwich OS
- This theme support all major devices including sony xperia z, samsung galaxy note. samsung galaxy note2, galaxy grand, galaxy s4 and etc.
-Thank You very much for your download and we hope you will enjoy the theme!

Size : 2.0M Current Version : 1.0 Requires Android : 2.2 and up